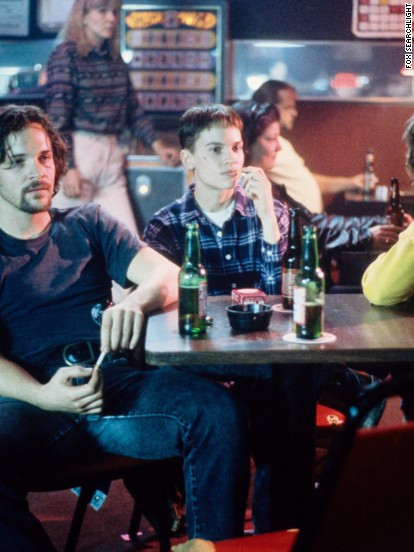 "Boys Don't Cry" is a dramatization of the real-life story of Brandon Teena, a 21-year-old transgender man who, in 1993, was raped and later murdered near the small Nebraska town of Falls City. As with
Matthew Shepard
, the young gay man who five years later was brutally tortured in Wyoming before dying of his injuries in Colorado, Teena became a symbol of the consequences of unchecked bigotry, and his death fueled renewed conversation around and pushes for
extending the scope of America's anti-hate crime legislation
.
"Transgender people have been waiting so many years for assistance from the federal government in addressing the rampant and disproportional violence that we face," Mara Keisling, the executive director of the National Center for Transgender Equality,
said in 2009 of the bill's signing
, referring to the paucity of state-level anti-hate crime legislation at the time. "Today we move one step closer to our goal of ending violence motivated by hatred."
That's now being reversed.
You could think of Minkowitz's mea culpa as a sign of America's broader progress on this front — of attempts to correct a history of political and social messaging that has worked against transgender people, that has smothered the "T" into silence.
Take, for instance, the persistent police harassment of transgender people. Often referred to as "walking while trans," this pattern of abuse hinges on the assumption that anyone perceived as transgender must be engaging in, or loitering for the purpose of, sex work — a result of the crosshatching stigmas that hang over sex workers and transgender identities.
"By the time you read this, I'll be back home in Lincoln," Teena says in a voiceover at the end of "Boys Don't Cry," addressing his girlfriend. "I'm scared of what's ahead, but when I think of you, I know I'll be able to go on."
Two decades after the film's release, these words, which Teena delivers with a kind of hope that's all the more powerful and moving for how much the world has tried to rob him of it, feel almost like a plea: to remember that the lives that hatred has cut down are more than symbols, to resist the allure of complacency in the struggle for LGBTQ rights. Because there are still people scraping for their very existences — trying to go on — as their country works, relentlessly, to make that fight as hard and as awful as possible.