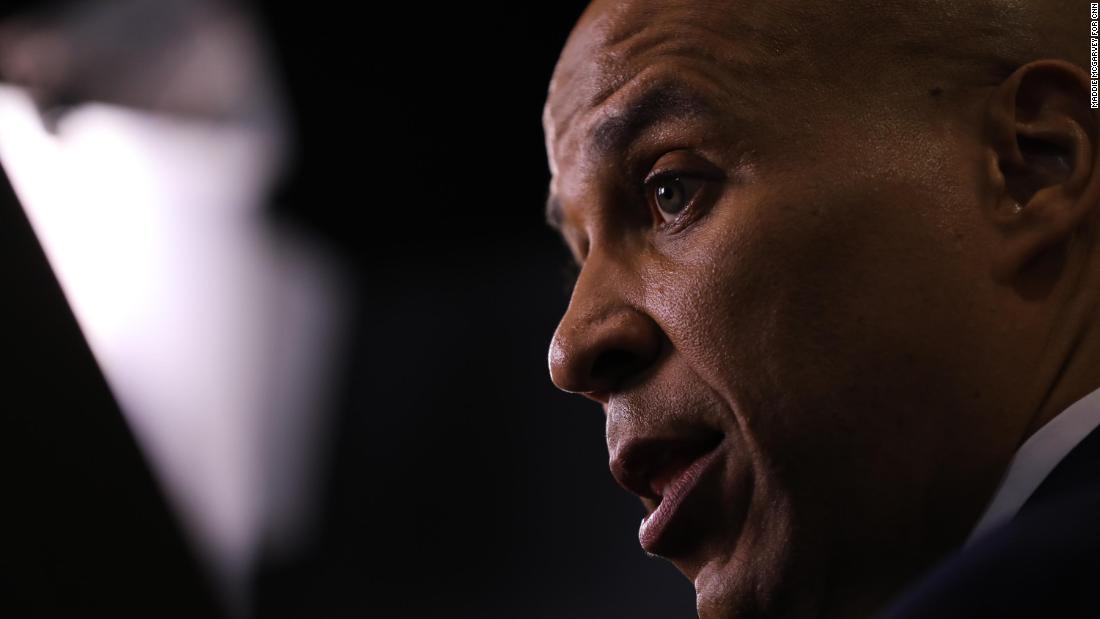 US Sen. Cory Booker greets the audience at a Conference of Mayors meeting in January 2019.
Booker's parents, Cary and Carolyn, were among the earliest black executives at IBM. The family grew up in the affluent community of Harrington Park, New Jersey. Cory is third from left. His younger brother, Cary, is with his dad at left.
Booker played football at Stanford University. He also served as student body president and ran a crisis hotline for students. After getting his master's degree, he would go on to attend Oxford University as a Rhodes Scholar. He graduated from Yale Law School in 1997.
Booker, second from left, poses with his parents and his brother after he was elected to the Municipal Council of Newark in 1998. It was his first public office.
Booker concedes defeat after losing the 2002 mayoral race to incumbent Sharpe James. But he would be back four years later.
Booker celebrates in May 2006 after he was elected as Newark's mayor. He defeated Deputy Mayor Ronald Rice after incumbent Sharpe James decided to focus on the state Senate.
Booker takes the oath of office in July 2006. Next to him, holding the Bible, is his mother, Carolyn. Also holding the Bible in the foreground is Booker's grandmother, Adeline Jordan.
Booker walks on the newly refurbished City Hall dome in Newark in November 2006.
From left, Booker, Lt. Gov. candidate Loretta Weinberg, US President Barack Obama and New Jersey Gov. Jon Corzine wave at a gubernatorial campaign rally in November 2009.
Booker helps cut the ribbon at the opening of affordable housing in Newark that was funded through Jon Bon Jovi's JBJ Soul Foundation in December 2009.
Booker shovels snow to help dig out people's vehicles in Newark in January 2011. While serving as mayor, Booker developed a reputation for engaging in personal acts of heroism such as rescuing a neighbor from a house fire and chasing down a suspected bank robber. Using social media to connect with constituents, he shoveled snowbound driveways by request and invited nearby city residents to his home when Hurricane Sandy caused widespread power outages.
Booker leaps from the wheel cover of a mobile billboard after taking photos on it in February 2011. The truck was driven across the nation to draw attention to US gun laws.
Booker plays a game of one-on-one with pro basketball player Cappie Pondexter in May 2011.
Booker speaks at the Democratic National Convention in September 2012.
Women pose next to Booker's campaign bus during a rally in Newark in August 2013. Booker was running for the US Senate seat that was vacated when five-term incumbent Frank Lautenberg died at the age of 89.
Booker addresses supporters after winning the Democratic primary in August 2013. He went on to defeat Republican Steve Lonegan in October.
Booker takes the oath of office from Vice President Joe Biden during a ceremonial swearing-in at the US Capitol.
Booker confers with US Sen. Kirsten Gillibrand during a Senate subcommittee hearing in November 2013. The hearing, about Hurricane Sandy recovery efforts, was Booker's first since being sworn in.
Booker addresses a gathering of students and parents at his childhood school in Harrington Park, New Jersey, in November 2014. He had just been re-elected a day earlier.
Booker testifies before the Senate Judiciary Committee's Constitution, Civil Rights and Human Rights Subcommittee in December 2014.
Vice President Joe Biden administers the Senate oath to Booker in January 2015. Holding the Bible is Booker's niece, Zelah, and his sister-in-law, Lucille.
Booker talks with US Sen. Chuck Schumer after a news conference about Iran in October 2015.
Booker meets with eighth-graders during their end-of-year trip to Washington in May 2016.
Booker campaigns with Democratic presidential candidate Hillary Clinton at a cafe in Newark in June 2016.
During a news conference in June 2016, Booker embraces the Rev. Sharon Risher, a clinical trauma chaplain who lost her mother and two cousins in a church shooting in Charleston, South Carolina. Democratic senators were calling for gun-control legislation after a mass shooting at an Orlando nightclub.
Booker speaks at the Democratic National Convention in July 2016.
Booker looks on as Scott Pruitt, Oklahoma's attorney general and Donald Trump's pick to run the Environmental Protection Agency, testifies at his confirmation hearing in January 2017.
Booker and US Sen. Elizabeth Warren talk before the start of a July 2017 news conference that introduced the Dignity for Incarcerated Women Act.
Booker boards an elevator at the Capitol in January 2018.
Booker questions Judge Brett Kavanaugh, President Trump's nominee for the US Supreme Court, during Kavanaugh's confirmation hearing in September 2018.
Booker poses for a photo with a group of visitors at the Hart Senate Office Building in Washington in January 2019.
Booker walks with NAACP leaders during a Martin Luther King Jr. Day march in Columbia, South Carolina, in January 2019.
After announcing that he would be running for president, Booker speaks to the press outside his home in Newark in February 2019.
Booker speaks during a campaign event in Des Moines, Iowa, in February 2019.
Someone takes a photo of Booker during a campaign stop in Claremont, New Hampshire, in March 2019.
Booker looks to be called on during the CNN Democratic debates in July 2019.
Booker explores the Iowa State Fair in August 2019.