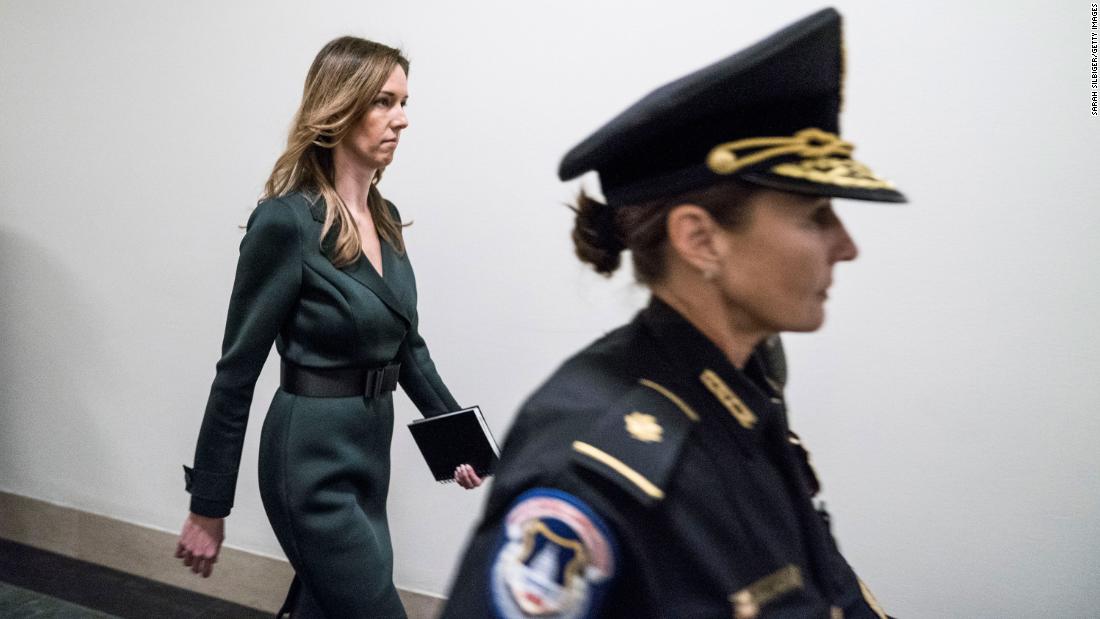 Shortly before
impeachment proceedings
wrapped up Wednesday, Chief Justice John Roberts disclosed that the House managers submitted a "one-page classified document" that senators could review in a classified setting, but not release to the public.
The chief justice was referring to
testimony from Jennifer Williams
, an aide to Vice President Mike Pence who gave House investigators new details about Pence's contacts with Ukrainians. Democrats say there's more to learn from her testimony, but it isn't public yet.
');$vidEndSlate.removeClass('video__end-slate–inactive').addClass('video__end-slate–active');}};CNN.autoPlayVideoExist = (CNN.autoPlayVideoExist === true) ? true : false;var configObj = {thumb: 'none',video: 'politics/2019/11/19/jennifer-williams-full-opening-statement-impeachment-hearing-vpx.cnn',width: '100%',height: '100%',section: 'domestic',profile: 'expansion',network: 'cnn',markupId: 'body-text_4',theoplayer: {allowNativeFullscreen: true},adsection: 'const-article-inpage',frameWidth: '100%',frameHeight: '100%',posterImageOverride: {"mini":{"width":220,"type":"jpg","uri":"//cdn.cnn.com/cnnnext/dam/assets/191119094359-21-impeachment-1119-williams-small-169.jpg","height":124},"xsmall":{"width":307,"type":"jpg","uri":"//cdn.cnn.com/cnnnext/dam/assets/191119094359-21-impeachment-1119-williams-medium-plus-169.jpg","height":173},"small":{"width":460,"type":"jpg","uri":"//cdn.cnn.com/cnnnext/dam/assets/191119094359-21-impeachment-1119-williams-large-169.jpg","height":259},"medium":{"width":780,"type":"jpg","uri":"//cdn.cnn.com/cnnnext/dam/assets/191119094359-21-impeachment-1119-williams-exlarge-169.jpg","height":438},"large":{"width":1100,"type":"jpg","uri":"//cdn.cnn.com/cnnnext/dam/assets/191119094359-21-impeachment-1119-williams-super-169.jpg","height":619},"full16x9″:{"width":1600,"type":"jpg","uri":"//cdn.cnn.com/cnnnext/dam/assets/191119094359-21-impeachment-1119-williams-full-169.jpg","height":900},"mini1x1″:{"width":120,"type":"jpg","uri":"//cdn.cnn.com/cnnnext/dam/assets/191119094359-21-impeachment-1119-williams-small-11.jpg","height":120}}},autoStartVideo = false,isVideoReplayClicked = false,callbackObj,containerEl,currentVideoCollection = [],currentVideoCollectionId = ",isLivePlayer = false,mediaMetadataCallbacks,mobilePinnedView = null,moveToNextTimeout,mutePlayerEnabled = false,nextVideoId = ",nextVideoUrl = ",turnOnFlashMessaging = false,videoPinner,videoEndSlateImpl;if (CNN.autoPlayVideoExist === false) {autoStartVideo = false;if (autoStartVideo === true) {if (turnOnFlashMessaging === true) {autoStartVideo = false;containerEl = jQuery(document.getElementById(configObj.markupId));CNN.VideoPlayer.showFlashSlate(containerEl);} else {CNN.autoPlayVideoExist = true;}}}configObj.autostart = CNN.Features.enableAutoplayBlock ? false : autoStartVideo;CNN.VideoPlayer.setPlayerProperties(configObj.markupId, autoStartVideo, isLivePlayer, isVideoReplayClicked, mutePlayerEnabled);CNN.VideoPlayer.setFirstVideoInCollection(currentVideoCollection, configObj.markupId);videoEndSlateImpl = new CNN.VideoEndSlate('body-text_4');function findNextVideo(currentVideoId) {var i,vidObj;if (currentVideoId && jQuery.isArray(currentVideoCollection) && currentVideoCollection.length > 0) {for (i = 0; i 0) {videoEndSlateImpl.showEndSlateForContainer();if (mobilePinnedView) {mobilePinnedView.disable();}}}}callbackObj = {onPlayerReady: function (containerId) {var playerInstance,containerClassId = '#' + containerId;CNN.VideoPlayer.handleInitialExpandableVideoState(containerId);CNN.VideoPlayer.handleAdOnCVPVisibilityChange(containerId, CNN.pageVis.isDocumentVisible());if (CNN.Features.enableMobileWebFloatingPlayer &&Modernizr &&(Modernizr.phone || Modernizr.mobile || Modernizr.tablet) &&CNN.VideoPlayer.getLibraryName(containerId) === 'fave' &&jQuery(containerClassId).parents('.js-pg-rail-tall__head').length > 0 &&CNN.contentModel.pageType === 'article') {playerInstance = FAVE.player.getInstance(containerId);mobilePinnedView = new CNN.MobilePinnedView({element: jQuery(containerClassId),enabled: false,transition: CNN.MobileWebFloatingPlayer.transition,onPin: function () {playerInstance.hideUI();},onUnpin: function () {playerInstance.showUI();},onPlayerClick: function () {if (mobilePinnedView) {playerInstance.enterFullscreen();playerInstance.showUI();}},onDismiss: function() {CNN.Videx.mobile.pinnedPlayer.disable();playerInstance.pause();}});/* Storing pinned view on CNN.Videx.mobile.pinnedPlayer So that all players can see the single pinned player */CNN.Videx = CNN.Videx || {};CNN.Videx.mobile = CNN.Videx.mobile || {};CNN.Videx.mobile.pinnedPlayer = mobilePinnedView;}if (Modernizr && !Modernizr.phone && !Modernizr.mobile && !Modernizr.tablet) {if (jQuery(containerClassId).parents('.js-pg-rail-tall__head').length) {videoPinner = new CNN.VideoPinner(containerClassId);videoPinner.init();} else {CNN.VideoPlayer.hideThumbnail(containerId);}}},onContentEntryLoad: function(containerId, playerId, contentid, isQueue) {CNN.VideoPlayer.showSpinner(containerId);},onContentPause: function (containerId, playerId, videoId, paused) {if (mobilePinnedView) {CNN.VideoPlayer.handleMobilePinnedPlayerStates(containerId, paused);}},onContentMetadata: function (containerId, playerId, metadata, contentId, duration, width, height) {var endSlateLen = jQuery(document.getElementById(containerId)).parent().find('.js-video__end-slate').eq(0).length;CNN.VideoSourceUtils.updateSource(containerId, metadata);if (endSlateLen > 0) {videoEndSlateImpl.fetchAndShowRecommendedVideos(metadata);}},onAdPlay: function (containerId, cvpId, token, mode, id, duration, blockId, adType) {/* Dismissing the pinnedPlayer if another video players plays an Ad */CNN.VideoPlayer.dismissMobilePinnedPlayer(containerId);clearTimeout(moveToNextTimeout);CNN.VideoPlayer.hideSpinner(containerId);if (Modernizr && !Modernizr.phone && !Modernizr.mobile && !Modernizr.tablet) {if (typeof videoPinner !== 'undefined' && videoPinner !== null) {videoPinner.setIsPlaying(true);videoPinner.animateDown();}}},onAdPause: function (containerId, playerId, token, mode, id, duration, blockId, adType, instance, isAdPause) {if (mobilePinnedView) {CNN.VideoPlayer.handleMobilePinnedPlayerStates(containerId, isAdPause);}},onTrackingFullscreen: function (containerId, PlayerId, dataObj) {CNN.VideoPlayer.handleFullscreenChange(containerId, dataObj);if (mobilePinnedView &&typeof dataObj === 'object' &&FAVE.Utils.os === 'iOS' && !dataObj.fullscreen) {jQuery(document).scrollTop(mobilePinnedView.getScrollPosition());playerInstance.hideUI();}},onContentPlay: function (containerId, cvpId, event) {var playerInstance,prevVideoId;if (CNN.companion && typeof CNN.companion.updateCompanionLayout === 'function') {CNN.companion.updateCompanionLayout('restoreEpicAds');}clearTimeout(moveToNextTimeout);CNN.VideoPlayer.hideSpinner(containerId);if (Modernizr && !Modernizr.phone && !Modernizr.mobile && !Modernizr.tablet) {if (typeof videoPinner !== 'undefined' && videoPinner !== null) {videoPinner.setIsPlaying(true);videoPinner.animateDown();}}},onContentReplayRequest: function (containerId, cvpId, contentId) {if (Modernizr && !Modernizr.phone && !Modernizr.mobile && !Modernizr.tablet) {if (typeof videoPinner !== 'undefined' && videoPinner !== null) {videoPinner.setIsPlaying(true);var $endSlate = jQuery(document.getElementById(containerId)).parent().find('.js-video__end-slate').eq(0);if ($endSlate.length > 0) {$endSlate.removeClass('video__end-slate–active').addClass('video__end-slate–inactive');}}}},onContentBegin: function (containerId, cvpId, contentId) {if (mobilePinnedView) {mobilePinnedView.enable();}/* Dismissing the pinnedPlayer if another video players plays a video. */CNN.VideoPlayer.dismissMobilePinnedPlayer(containerId);CNN.VideoPlayer.mutePlayer(containerId);if (CNN.companion && typeof CNN.companion.updateCompanionLayout === 'function') {CNN.companion.updateCompanionLayout('removeEpicAds');}CNN.VideoPlayer.hideSpinner(containerId);clearTimeout(moveToNextTimeout);CNN.VideoSourceUtils.clearSource(containerId);jQuery(document).triggerVideoContentStarted();},onContentComplete: function (containerId, cvpId, contentId) {if (CNN.companion && typeof CNN.companion.updateCompanionLayout === 'function') {CNN.companion.updateCompanionLayout('restoreFreewheel');}navigateToNextVideo(contentId, containerId);},onContentEnd: function (containerId, cvpId, contentId) {if (Modernizr && !Modernizr.phone && !Modernizr.mobile && !Modernizr.tablet) {if (typeof videoPinner !== 'undefined' && videoPinner !== null) {videoPinner.setIsPlaying(false);}}},onCVPVisibilityChange: function (containerId, cvpId, visible) {CNN.VideoPlayer.handleAdOnCVPVisibilityChange(containerId, visible);}};if (typeof configObj.context !== 'string' || configObj.context.length 0) {configObj.adsection = window.ssid;}CNN.autoPlayVideoExist = (CNN.autoPlayVideoExist === true) ? true : false;CNN.VideoPlayer.getLibrary(configObj, callbackObj, isLivePlayer);});CNN.INJECTOR.scriptComplete('videodemanddust');