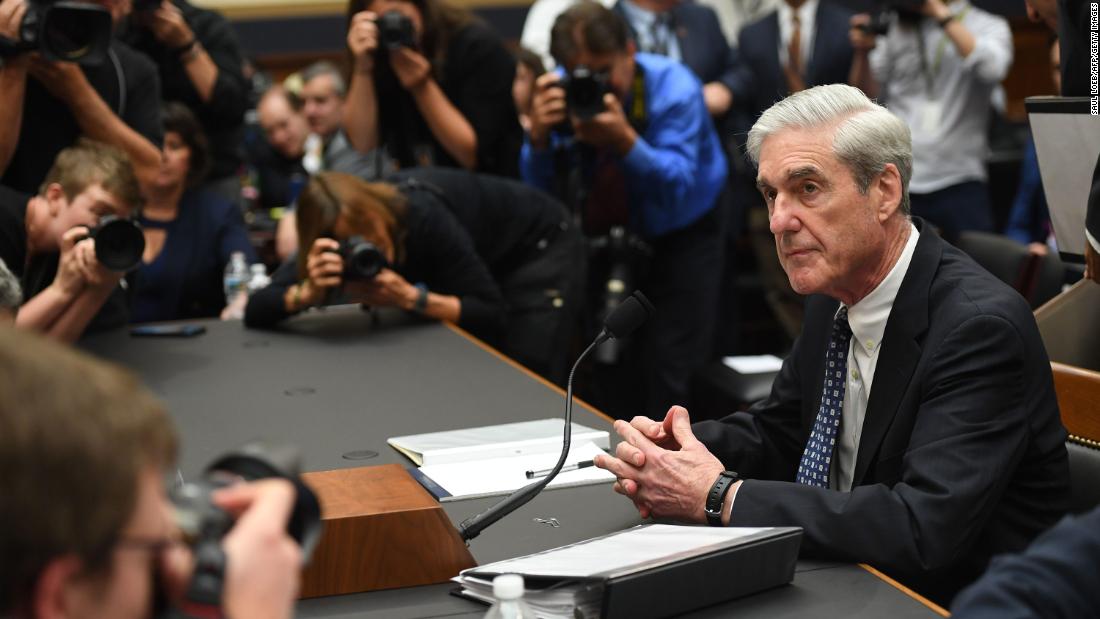 The witnesses include: former Trump lawyer Michael Cohen, former Trump 2016 campaign aide Rick Gates, former White House chief of staff John Kelly, former Trump adviser Hope Hicks and former campaign aide Corey Lewandowski.
Rick Gates pinned some of the decision to fire national security adviser Michael Flynn on Vice President Mike Pence.
"Gates said Pence went to Trump about firing Flynn and he thought it was one of the few times Pence pushed Trump hard like that," Mueller's team wrote in the summary of Gates' April 2018 cooperation interview.
Investigators also noted that Gates thought Trump and Flynn had had a good relationship, and that Trump didn't want to fire his national security adviser but "felt like he had no choice" after Flynn lied to Pence about his contact with the Russian ambassador.
Giuliani wouldn't have recused himself on Russia investigation, Gates said
Rick Gates told the special counsel's office — as they investigated possible obstruction of justice by the President — that if Rudy Giuliani had been the attorney general, some believed he wouldn't have recused himself from the Russia investigation, which at times targeted Trump's campaign advisers.
Trump had wanted Mueller fired at one point, and was irate over then-Attorney General Jeff Sessions' recusal from overseeing the Mueller investigation, Mueller ultimately found.
"After the recusal, he recalled conversations where people offered their opinion that had Rudy Giuliani been attorney general, he would not have recused himself. Gates knew Giuliani had been the first choice for attorney general, but turned it down because he wanted to be Secretary of State instead," the FBI summary of the interview with Gates said.
Sekulow said it wasn't necessary to elaborate on Trump Tower Moscow talks, Cohen says
Trump's former personal lawyer Michael Cohen told Trump's lawyer Jay Sekulow that there were details about the Trump Tower Moscow discussions that were not included in the statement they were providing Congress, including more communications with Russia and more communications with Donald Trump.
But Sekulow told him it was "not necessary to elaborate or include those details because the transaction did not take place."
"Sekulow said it did not matter and Cohen should not contradict Trump and that it was time to move on," according to the summary of Cohen's interview. Sekulow assured Cohen that Trump was happy with him and that he would be "protected" but he would not be if he "went rogue."
Cohen later pleaded guilty to lying to Congress by withholding contacts he had with the Russian government, the number of communications he had with Trump and their discussions to fly to Moscow in the summer of 2016, months before the election.
Cohen also recalled talking to Trump about his call with someone from the Kremlin — Putin spokesman Dmitry Peskov's assistant — who he said asked great questions about a possible Trump Tower in Moscow and noted that he wished the Trump Organization had assistants as competent as she was.
Kelly backed up McGahn's testimony
The document dump sheds new light on what Mueller learned from former White House chief of staff John Kelly, who sat for an interview in August 2018.
Investigators quizzed Kelly about Trump's efforts to fire Mueller in June 2017, and his efforts to contain the fallout when The New York Times revealed the unsuccessful attempt in a January 2018 article. The Mueller report determined that there was substantial evidence that both of these episodes constituted obstruction of justice, though Trump could not be charged due to Justice Department policy
Kelly told investigators about a "tense" conversation in the Oval Office that he witnessed between Trump and then-White House counsel Don McGahn, where Trump asked McGahn to "correct the record" after the Times article came out, but McGahn maintained that there was nothing to fix.
After the meeting, McGahn privately told Kelly that he "did have that conversation" with Trump, presumably about firing Mueller. (The memo is heavily redacted but the implication is clear.)
Cohen asked about a pardon from Trump
Cohen asked Sekulow about the possibility of a pardon some time after his apartment and hotel room were raided by the FBI in April 2018. Cohen noted he had been loyal to the President.
"Cohen said it was an uncomfortable position to be in and wanted to know what was in it for him," one memo states.
This story is breaking and will be updated.