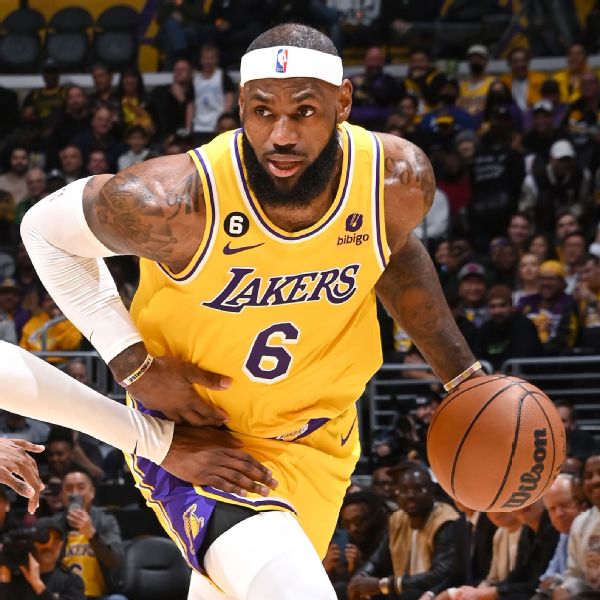 LOS ANGELES — It wasn't until LeBron James consulted with a doctor he referred to as "the LeBron James of feet" — preferring not to disclose the medical professional's name — that the Los Angeles Lakers star was assured he'd be able to return this season from a torn tendon in his right foot.
"He told me I shouldn't [get surgery]," James said after L.A.'s 118-108 loss to the Chicago Bulls on Sunday.
Two other doctors had recommended James go under the knife to repair his ailing foot, but the 20-year veteran opted for round-the-clock rehabilitation and training to return.
He made it back in exactly four weeks, missing 13 games, in time to participate in the Lakers' final push to qualify for the playoffs.
With two weeks remaining in the regular season, the loss to Chicago dropped L.A. to No. 9 in the Western Conference standings, but only two games behind the No. 6 Golden State Warriors with seven games remaining.
James had 19 points against the Bulls, shooting 6-for-11 from the field, with eight rebounds and three assists.
He also had five turnovers and L.A. had 18 as a team, leading to 34 points for Chicago.
"Obviously, the rhythm is the most important," James said. "I had a couple of drives and the ball got away from me. A couple of shots didn't feel as good as before, obviously. But I was out for four weeks so between that and the wind, just trying to get those things back leading to the final stretch of the season."
Anthony Davis (15 points, 9 rebounds) said the timing of James' return should help L.A. rediscover a rhythm before the postseason.
"You could see him getting his rhythm, his timing, his finishes, all of that," Davis said. "He's going to be all right. We're going to be all right. … It was great to see him back out there."
James said the Lakers' performance in his absence — going 8-5 to not only tread water but gain ground in the standings — motivated his expedited return.
"To hell with the play-in — we actually can be a top-eight seed," James said. "That definitely changed my mindset on me coming back and trying to be a part of this. … I don't really want to say changed my mindset, it just enhanced what I was trying to do as far as my workouts, as far as my treatment and everything."
With games nearly every other day between now and the end of the season, coach Darvin Ham said the team will have to find time at shootarounds and film sessions to coalesce around James.
But if there is anyone prepared to fast track that process, Ham said, it's James.
"There will be times and opportunities to make sure we're all on the same pace re-implementing him back into the lineup," Ham said. "He's a savvy veteran, one of the greatest to ever do it, over 20 years, so it's not going to take much."