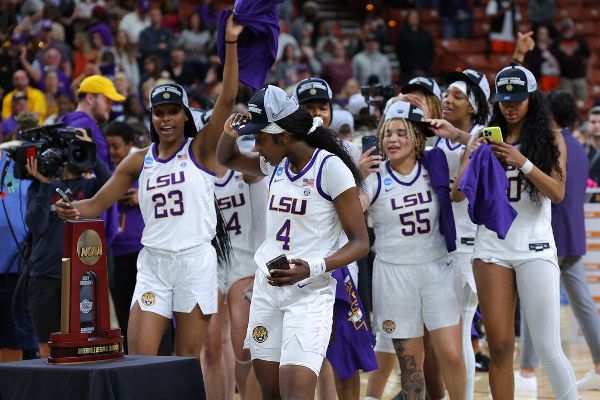 GREENVILLE, S.C. — Angel Reese had 18 rebounds and LSU Tigers returned to the women's Final Four for the first time in 15 years by beating Miami Hurricanes 54-42 on Sunday night, carrying a rapid rise under second-year coach Kim Mulkey straight to the sport's biggest stage.
Alexis Morris scored 21 points and Reese added 13 for the third-seeded Tigers (32-2), who asserted control of a grinding, defense-first game. LSU's length caused Miami problems even with Reese — an Associated Press first-team All-American — having a brutal shooting day, and the Tigers offset their offensive hiccups by dominating the glass.
LSU shot 30.2% and went 1 for 12 from 3-point range, including misses on its first nine attempts. But Miami was even worse from 3, missing all 15 tries.
The third-seeded Tigers finished with a 49-35 rebounding edge behind Reese, which led to a 15-3 edge in second-chance points — all desperately needed on a day with offensive rebounds readily available.
Mulkey is in her second season at LSU, bringing a resume with three NCAA titles from her time at Baylor along with some flamboyant sideline looks such as her shimmering silver jacket with white pants for this one. She had cautioned that the Tigers were overachieving when they're still strengthening a program for the long haul.
Maybe so, but they're ahead of schedule after pushing their way through the NCAA Tournament's Greenville 2 Region. The Tigers head to Dallas to face Ohio State or Virginia Tech in Friday's national semifinals.
When the horn sounded, Mulkey turned to her bench and leaned forward to put her hands on her knees as though in disbelief. Players soon began running to midcourt to celebrate — except for Morris running straight to the scorer's table and jumping on top of it.
Reese missed her first nine shots and didn't manage her first basket until early in the third quarter, finishing the day 3 for 15 from the field. But she went 7 of 10 from the free-throw line and contributed four assists, three steals and two blocks.
Jasmyne Roberts scored 22 points for ninth-seeded Miami (22-13), which had taken a wild ride here. The Hurricanes rallied from a huge deficit to beat Oklahoma State in the first round, stunned No. 1 seed Indiana on the road, then beat Villanova in Friday's Sweet 16 despite blowing a 21-point lead.
The last win set off an emotional on-court celebration for Katie Meier's bunch, which had played with toughness and athleticism to get to its first Elite Eight. The Hurricanes were trying to match the record for lowest-seeded team ever to reach a Final Four, set by Arkansas in 1998.
But the Hurricanes struggled from the start offensively, even as their defense kept them hanging around and leaving open opportunities to make a push.
Outside of Roberts — coming off a career-best 26 points against Villanova — seemingly no Hurricanes player could make a shot.
The Hurricanes shot 31.6% and plenty of their missed 3-pointers came off clean looks. Destiny Harden, who hit the shot to beat Indiana, scored three points on 0-for-9 shooting with seven missed 3s.
It was a disappointing conclusion to an incredible run for Miami, and the school fell short of making history twice in one day.
The men's and women's teams were each playing Sunday to reach the program's first Final Four. The men pulled it off, beating Texas in Kansas City, Missouri. That game went final during the first quarter of the women's game – drawing cheers when the final play was shown on the arena scoreboards.
Miami battled, but couldn't complete the double.